Incontinence is something that is rarely mentioned outside the urology clinic, but if you are suffer with incontinence issues you are not alone. It is estimated that incontinence effects up to 3 million people across the United Kingdom.
If you are suffering from incontinence there are an endless amount of resources and products available to help.

Within this comprehensive guide we'll explain incontinence in greater detail to help you understand more about what causes it and we'll also cover the various products that are available to help remedy and manage your incontinence.
What is incontinence?
So first thing's first. What is incontinence? Your doctor should have already covered this but we'll just further cement things in your mind here.
Incontinence describes the accidental or involuntary loss of urine or bowel motion. It's a widespread condition and severity can vary dramatically from a 'small leak' to complete loss of bladder or bowel control.
If you haven't yet spoken to a doctor and think you might be suffering from incontinence, take a look at the following questions:
Do you often have to rush to the toilet?
Do you wake up multiple times during the night to use the toilet?
Do you strain to empty your bowel?
Do you sometimes leak before you make it to the toilet?
Do you sometimes leak when heavy lifting?
Do you sometimes leak during exercise?
Do you become nervous because you feel you could lose control of your bowel or bladder?
If you answered yes to any of the above questions it is possible that you could have a bladder or bowel control problem and should speak to your doctor.
Urinary incontinence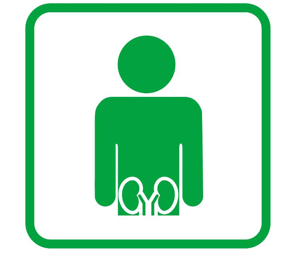 There are two main types of incontinence, the first is urinary incontinence. It's a common condition that mostly occurs during pregnancy, childbirth and other chronic conditions such as diabetes, arthritis and asthma.
The severity of urinal incontinence can range from the occasional leak as you laugh hysterically at a joke or the complete inability to control your bladder, which can lead to you completely wetting yourself at a moment's notice.
Multiple things can cause urinary incontinence, but it can be treated. You can reduce the chance of urinary incontinence developing by:
Controlling your weight
Cutting down your alcohol consumption or avoiding it completely
Keeping fit
It's important to speak to your doctor and take a look at the range of products that we will mention later on in this guide. If you are experiencing serious forms of urinary incontinence it is possible that your doctor may suggest surgery.
Faecal incontinence
If you are struggling to control your bowel it is possible that you could be suffering from faecal incontinence. People with faecal incontinence tend to pass faeces or stools at a moment's notice with little warning.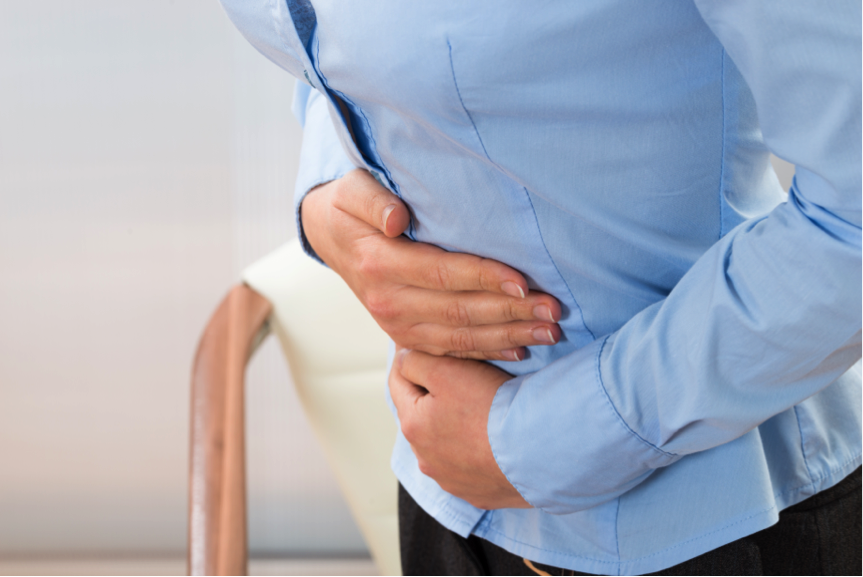 Faecal incontinence is more common than you may think; in fact one in twenty people suffer from poor bowel control and it gets far more common as you get older.
Just like urinal incontinence, there are products that you can purchase to control and manage the issues, and we'll talk more about these later on.
If you think that you could be experiencing faecal incontinence it is imperative that you speak to your GP and seek further advice.
To find out more about incontinence, speak to the experts at leading national organisation, The Bladder and Bowel Foundation.
Incontinence products
There is an extensive range of products available to assist people who are experiencing incontinence issues. However, with such a wide range available it is essential that you understand exactly what product(s) you need.
There are a number of things that you need to take in to account. You'll have to consider body shape, mobility, the severity of your incontinence issues and much more. All of these factors will have a bearing on the products that you eventually decide to purchase.
We'll cover everything in the following paragraphs and by the time you finish reading this piece you'll be well positioned to go out and purchase the correct incontinence products.
Before you consider purchasing an incontinence product there are a few questions that we recommend you ask yourself to ensure that you have a clear understanding of what you require. With such a comprehensive range available it will be useful to have some requirements in mind to help you narrow your search. Here are a few questions that you should consider:
Do you want a reusable or disposable product?
Do you want a product that is intended to be worn with regular underwear?
How much absorbance will you need?
What type and style do you want?
These are all questions that will help you to narrow down your search and make the whole process much more straightforward.
Pads for incontinence
One of the most common ways of managing mainly urinal incontinence is to use disposable pads.
Disposable incontinence pads come in various shapes and sizes, so it is essential that you chose the correct type and size. You'll find that certain pads are better suited for small leaks whereas others are suitable for more severe incontinence issues.
Pads are designed to be disposable, and even though they are manufactured with special fabrics and layers to lock liquid inside the core and keep it away from the skin, as soon as you soil a pad it is a good idea to change it as soon as possible. This is because good hygiene is paramount in avoiding odours and skin problems.
There are three main types of incontinence pads you need to be aware of:
Classic Rectangular Pads & Booster (or Insert) Pads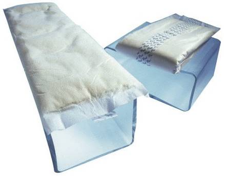 Classic Rectangular Pads are primarily designed for use with pouch pants or net/mesh pants, they have a waterproof backing and a 'stay-dry' fabric between the pad and your skin and these are designed to ensure that the urine goes into the pad and not through to your skin or clothing,
Booster (or 'Insert') Pads are quite different to all other pads in that they do not have any waterproof backsheet. This is done intentionally as these pads are designed to be used in conjunction with another product, for example pull up pants or All-in-Ones, to reinforce the overall absorption level. By allowing liquid to flow through them it means the booster pad will absorb some liquid but also allow the outer product to absorb a further amount thus increasing the overall absorption. These pads should not be used on their own for that reason
These pads are most suitable for light to moderate urinary incontinence; if you are experiencing more severe symptoms this is not the most appropriate type of pad for you.
Shaped Pads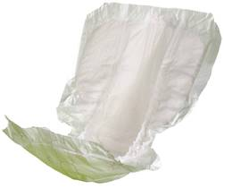 Shaped Pads fall into two categories, Small Shaped or Large Shaped, and there is a considerable difference in the physical size of the pad between the two. The Small Shaped Pads are for light to moderate incontinence and the Large Shaped Pads for Moderate to Heavy conditions.
These pads are contoured to fit the body thus ensuring a good snug fit and reducing the risk of any leakage.
Typically they will have a waterproof backing and 'stay dry' layer to prevent any embarrassing leakages. They can be held in place by special net underpants, although most of the 'Small Shaped' pads will have a sticky strip on the back to aid positioning and can also be worn with the users own close fitting underwear.
Click here to view range of Shaped Pads for Women
Click here to view range of shaped pads for Men
----------------------------------------------------------------------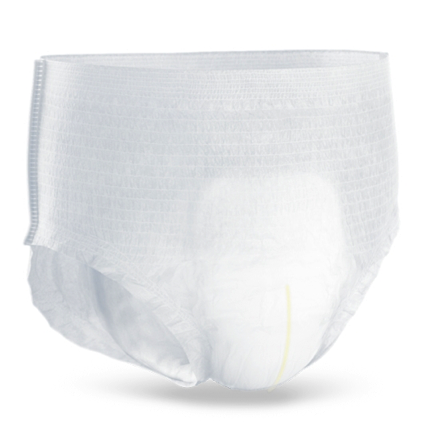 If you are experiencing light or moderate to heavy incontinence and like the idea of killing two birds with one stone, pants with built in pads are the perfect option.
Pull up incontinence pants are a popular choice as they are worn in the same manner as regular underwear. They have a built in absorbent pad and are completely disposable.
A range of absorbency levels are available in this type of product starting from a light/discreet product through to varieties aimed at moderate and heavy conditions. These will also typically have a waterproof but breathable backsheet and 'lock in' core providing excellent skin integrity. It is important get the correct size for the user so you should enquire with your supplier to ensure you get the correct fit.
Tip – Many of these disposable pants will have 'tear away side' for easy removal after use.
If you are experiencing severe leakages, these pads are ideal. Suitable for both urinal and faecal leakage, All-in-one Pads are designed much like a nappy. They have adhesive tapes either side - these hold the pad in place.
Just like the other pad types that we have mentioned, All-in-one Pads contain a waterproof layer to ensure that your clothing and furniture is well protected should you leak.
If you purchase an All-in-one Pad you won't need to wear underwear as these are designed to replace the need for such under layers.
Bedding and furniture protection for incontinence
The last thing you want is for your furniture and bedding to be inadvertently soiled due to your incontinence. When you take into account that sofas and mattresses can costs astronomical amounts of money to replace you'll definitely want to take the necessary steps to prevent them from being damaged. Thankfully there is a wealth of products available on the market to help.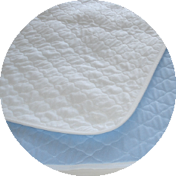 During the night it can be difficult to attempt to control incontinence and that is why beds can be vulnerable to leaks; not to mention that it's extremely difficult to mask and eliminate odours from a mattress.
With this in mind, a good course of action is to fit a waterproof sheet underneath your normal bedsheet to provide that extra level of protection and prevent any leakages making their way through to your precious mattress.
One thing to bear in mind regarding waterproof sheets is that they are designed to protect, not absorb. Typically they should be used in conjunction with absorbent pads because the sheet will protect the mattress and the pads will absorb the liquid.
If you want to protect more than your mattress you can also purchase waterproof pillows and duvet protectors, so they are well worth looking into if you have a severe case of incontinence.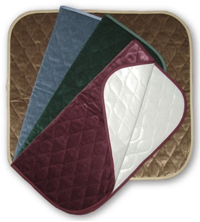 These are ideal to be used in conjunction with waterproof products like the waterproof bedding mentioned above. A reusable chair and bed pad most typically has an absorbent layer, waterproof backing and a stay dry sheet to ensure that you are kept dry whilst sitting or laying down.
Pads come in a variety of different sizes, so when you go shopping it will pay dividends to be aware of the dimensions of the item of furniture that you would like to protect.
You'll most likely be extremely reliant on these pads, so we recommend that you purchase more than one for each item of furniture. This means that you'll be able to continue protecting your furniture whilst the other set of pads are in the wash.
Available in a range of colours and patterns you should be able to find a style that blends in well with your existing décor.
Disposable bed & furniture protection
If you don't like the idea of having to wash soiled chair and bed pads, the perfect alternative is to consider something more disposable.
Disposable furniture protection tends to be made from the same material as pads and they are intended to be disposed of once soiled.
These pads should be used alongside waterproof protectors to ensure that the furniture is protected and that all liquid is absorbed.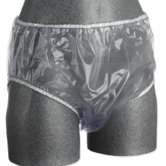 Waterproof pants are designed to provide you with that added security when using incontinence pads.
All you do is place them over your regular underwear and the elasticated leg openings and waist will ensure that no leaks occur – saving you from any embarrassment.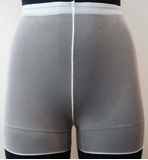 We all love a good pair of stretch pants. For incontinence purposes, stretch pants are mesh support that is very similar to the top of a pair of tights.
Being tight fitting they are designed to keep your pad in place and they are primarily suited to be worn with larger incontinence pads.
Cleansing
When you leak it can get extremely messy, especially if you are suffering from a more severe form of incontinence. Thankfully there are a select number of essential products that we recommend you have close to hand.
This is the number one essential and we suggest that you always have a set of wipes in your bag or car. Any form of good skin care wipe makes it easier to cleanse without having the need to take a bath or shower, this is extremely useful if you are suffering form more severe forms of incontinence. The last thing anyone wants is to either spend the day worrying about how they smell or hopping in and out of the shower multiple times.
To clean beds and furniture all you'll need is a set of anti-bacterial wipes and you'll be able to kill any bacteria and wipe clean most surfaces with relative ease.
Cleaners
If you are suffering from incontinence, especially faecal incontinence, it is likely that certain private areas of your body might be particularly sore. Therefore any form of intense scrubbing will only irritate the area further.
Incontinence cleaners are special cleaners that you rub gently into your skin and they dissolve the urine and faeces that is left on your body, consequently no aggressive rubbing is required to cleanse the body.
Allegro Medical have done a fantastic job of summarising the uses of specific incontinence product types.
Tips for buying incontinence products
So now that you know more about the various incontinence products available and how they can help to improve your quality of life, there are a few things that you need to bear in mind before you purchase each product type. By taking the following tips on board and acting on them, you'll find that it is much easier to select the right product(s) to meet your needs.
Wearable protection is best
Whilst you may not like the idea of wearable protection it is perfect for preventing accidents from soiling clothes and furniture. We get that you may feel awkward at first, but you'll get used to it and the last thing you want is your incontinence ruining your favourite jeans or the expensive new sofa that you recently purchased.
Remember to have a variety of different wearable incontinence products on hand to help you out in different situations. Here's a quick reminder of the categories of products and when they work best..
Disposable incontinence pads
Come in a large range of absorbency levels from light through to heavy and vary in physical size as you go up through the absorbency range. Usually worn with special 'net' or 'stretch' pants although many of the smaller ones will have adhesive strips and could be worn with your own close fitting underwear (not boxer shorts). No need to measure your waist as they are not worn around the waist.
Incontinence pants (disposable)
A popular choice worn exactly (and in place of) normal underwear. You need to ensure that you accurately measure your waist ensure that you purchase pants that fit correctly. If they are too loose the elasticated leg cuffs may allow leakage. If you aren't sure of you measurements, most local clothes shops will be able to help you out.
All –In-Ones
Applied in the same manner as a nappy with two tabs on each hip this product offers maximum protection for urinary and/or faecal incontinence. As with the pants above, you will need to buy the correct size for your waist or hips. Although there is some flexibility in sizes due to the nature of the product (as you can pull and attached the tabs in different positions) they should not be too loose around the top on the legs. Often recommended for night time use and those confined to a bed.
Bedding protection
Earlier we covered the range of products available to protect to your bed and as nighttime is when your furniture is most vulnerable we need to make sure that you are aware of what to look for when purchasing bedding protection.
As we mentioned earlier, it's best to buy both pads and waterproof sheets to ensure maximum protection and absorption. However, you also need to get your tape measure out and measure your bed to ensure that you purchase products that can comfortable protect all of your bedding. The last thing you want is for certain corners to be unprotected because as you move in the night it's a chance that even the bottom corners of your bed could become soiled.
Visit Positive Aging to get more top tips on what to do before, during and after you purchase incontinence products.
Consider an extra toilet
Sometimes it's difficult to make it to the toilet in time, especially during the night; therefore having a bedside commode within easy reach will be extremely useful. If you buy a commode, remember to get plenty of liners and empty the commode as soon as possible after use.
Make cleaning up easier
It's inevitable, you are going to have accidents. To make life easier why not stock up on everything you might need to be able to clean up most accidents easily. Your kitchen should be fully equipped with everything from antiseptic sprays to disposable cleaning wipes.
Where to buy incontinence products
Due to incontinence being such a common issue, there are countless outlets both online and on the high street where you can purchase incontinence products.
Certain retailers may specialise in specific products, however there are certainly outlets that you can visit that should be able to cater to all of your incontinence product needs.
What many people aren't aware of is that there are countless charities that are dedicated towards helping people with incontinence. Many of these charities stock incontinence products and they will be able to give you free samples so that you can try specific products out before making a purchase.
To conclude, incontinence is far more common than you may think and as a result there are a wealth of products available to help you manage things far more easily.
When you are searching for incontinence products have a clear idea in mind of exactly what you need. If you need wearable products, make sure you know your waist size or if you are in need of furniture protection, get the tape measure out and accurately measure the surface of the item to ensure that you purchase a product that provides full coverage.